" I remember people being crazy for Trishul and Om tattoos back in 2010 when I started tattooing.
A decade later, now this has evolved to entire different version of art and expression. I have witnessed some of the most unique designs and tattoos that people have got. Artists take days to search, visualise and design a tattoo. Hours and days go into the making and the final result is always stunning. 
The Trend of Custom Lord Shiva Tattoos started by Sunny Bhanushali ( Aliens Tattoos, Mumbai) has made an huge impact on Indian Tattoo Industry. Now Studios accross India follow the trend as there is a huge demand of custom lord shiva tattoos. "
- Abhishek Ahuja, Founder & Artist, N.A Tattoo Studio.
Tattoos inspired by your Concept and Our Creativity
We at N.A Tattoo Studio have done numerous Custom Lord Shiva Tattoos in the past years. Major elements including Rudraksha, Trishul, Third Eye, Damru, Snake, Moon, Lord Shiva, Maha Mrtiunjaya Mantra. 
We design a custom artwork as per the clients requirement and concept. Check out some of the Lord Shiva Tattoos Done at our studio.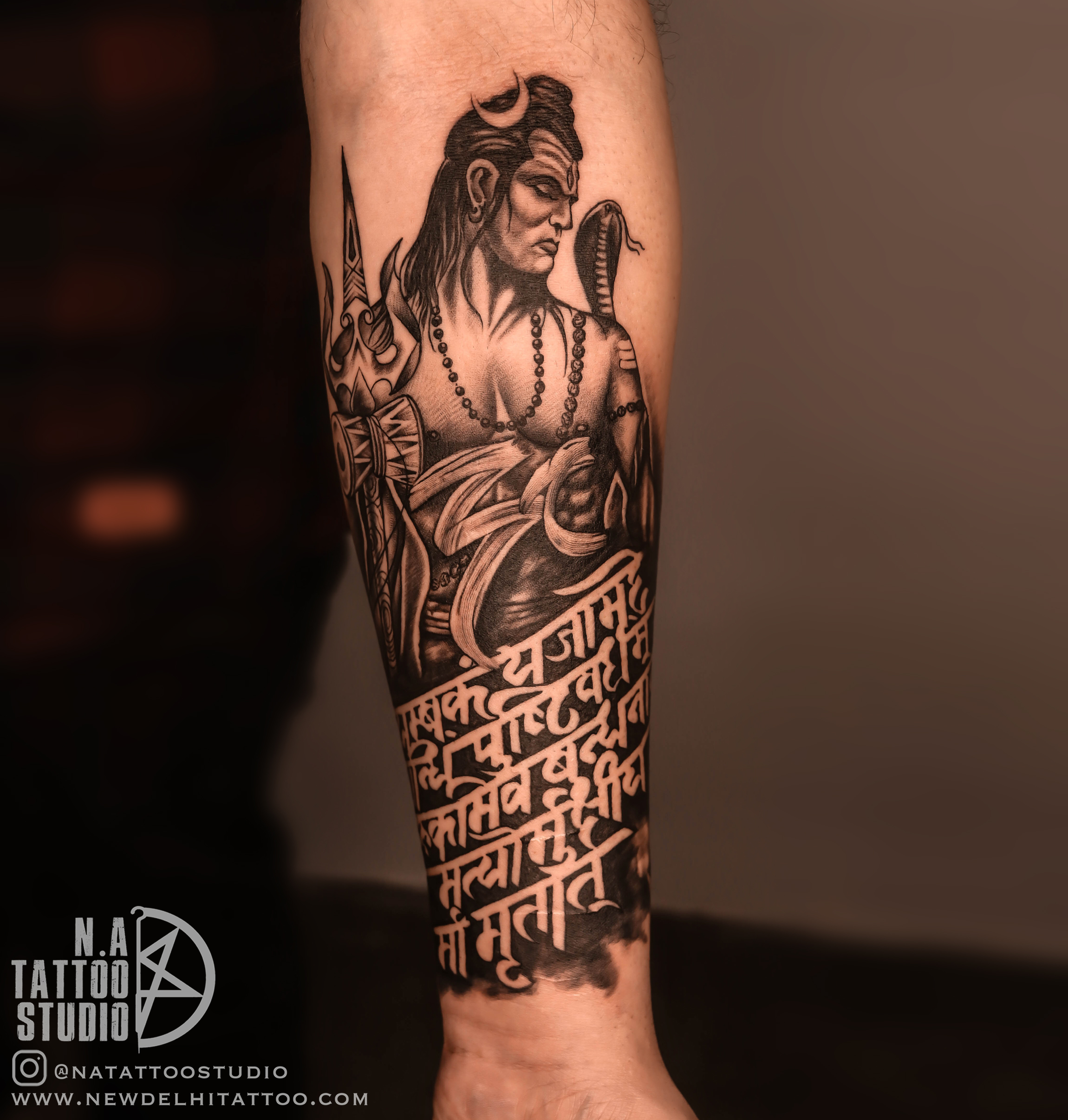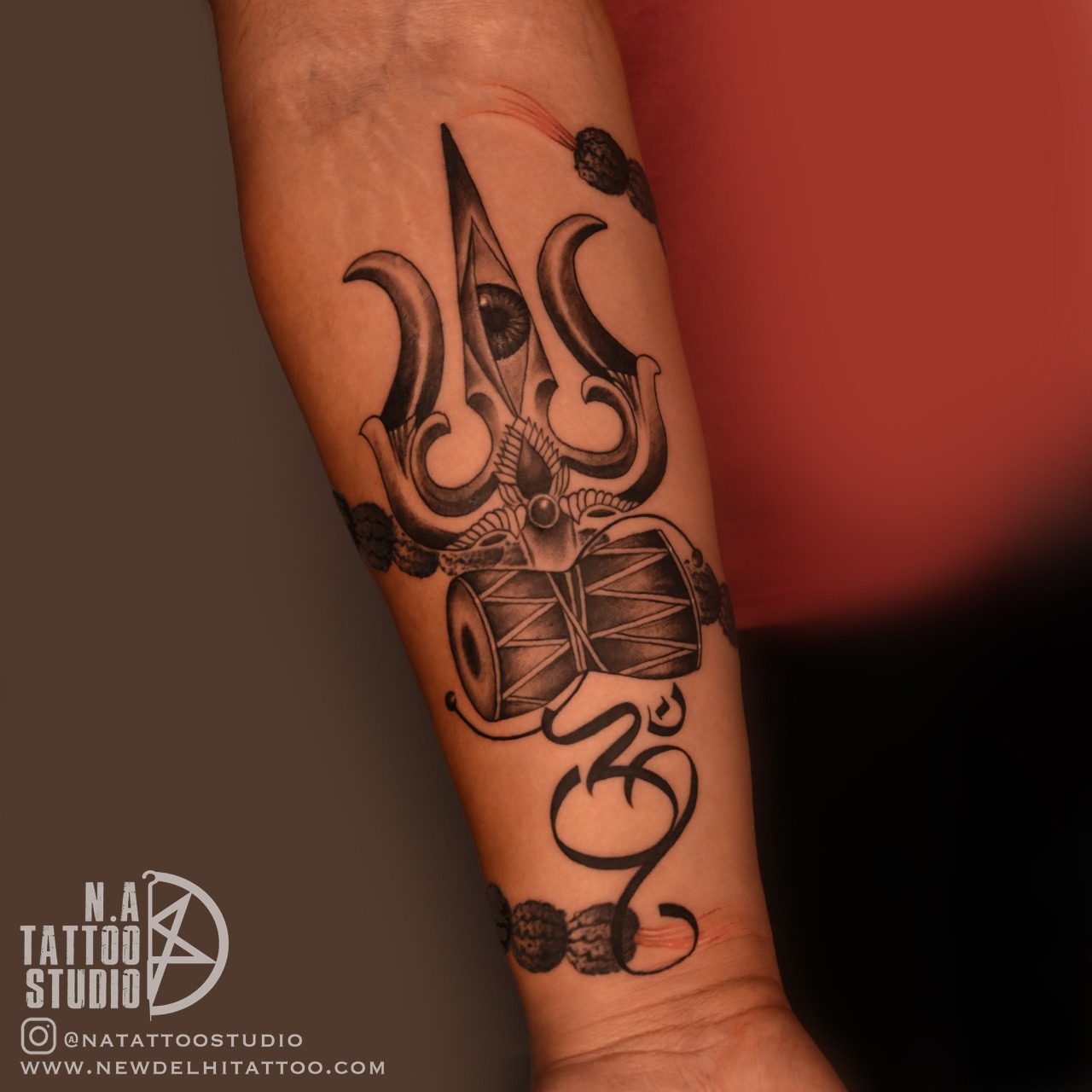 Shiva Moon – Shiva Tattva is where there is no mind and the moon signifies the mind.
Wisdom is beyond the mind, but it needs to be expressed with a tinge of mind and this is symbolized by the crescent moon.
Damru – symbolizes the Universe which is always expanding and collapsing. From an expansion it collapses and then it re-expands, this is the process of creation.
If you see your heartbeat, it is not just one straight line but it is a rhythm that goes up and down. 
Snake – A state of samadhi where there is nothing, just the inner sky of consciousness, is Shiva; where there is alertness and no action. To describe this alertness they put a snake around Shiva's neck. So the serpent is a symbol of alertness.
Trishul – Trishul represents the three aspects of consciousness – waking, dreaming and sleeping, and it represents the three gunas – satva, rajas and tamas. Holding a trishul (Trident) signifies that Shiva (the divinity) is above all the three states – waking, dreaming and sleeping, yet is the upholder of these three states.
Ganga – Ganga means knowledge; knowledge that purifies your soul. Head is always the symbol of knowledge. Heart is the symbol of love.
If Ganga were to be love, it should have come out of the heart of Lord Shiva. It is coming out of the head, because it simply means knowledge.
Third Eye – The third eye is associated with alertness and awareness.
Om Namah Shivaya is one of the very powerful mantras. It builds the energy in your system and clears the environment. Mantras are those energizing sounds which help to uplift the consciousness.
Shiv Ling – Lingam means identification, a symbol through which you can identify what the truth is, what the reality is. What is not visible but yet can be identified by one thing, that is lingam.
Maha Mritunjaya Mantra – We worship the three-eyed One, who is fragrant and who nourishes all.
Like the fruit falls off from the bondage of the stem, may we be liberated from death, from mortality.
Steps to get a Custom Lord Shiva Tattoo
Think about your tattoo concept, It could be as simple as a Trishul with Om or as crazy as lord shiva in space meditating with universe background and maha mritunjaya mantra in-inverted. So take your time look for images that you like.
Find an artist whose work you like. This is really a crucial step as he is the one who will convert your concept into custom design with his creativity and vision. So if you want realistic shiva tattoo then look for an artist who does realism tattoos. If you want a mantra tattoo then look for an artist who does good line-work. 
Book a Consultation-to discuss with the artist. You will get more clarity on the size to go for, placement and budget. 
Time for Tattoo !!!
Here are some of our Lord Shiva Custom Tattoos
BOOK YOUR FREE TATTOO CONSULTATION